higher education handbook of theory and research
MICHAEL B. PAULSEN is Professor of Higher Education & Student Affairs at The University of Iowa. His primary areas of scholarly expertise are: (a) economics, finance and policy in higher education; and (b) teaching, learning and curriculum in higher education. Prior to his faculty appointment at The University of Iowa, he was a professor of higher education at the Universities of Illinois, Alabama and New Orleans. He is Series Editor of the annual volumes of the scholarly books series, Higher Education: Handbook of Theory and Research. He has also served for over twenty years on the editorial board of Research in Higher Education. He has over seventy publications—books, journal articles, and book chapters. In addition to his annual volumes of the Handbook, Professor Paulsen's other books include Economics of Higher Education (w/R. Toutkoushian); The Finance of Higher Education (w/J. Smart); Applying Economics to Institutional Research (w/R. Toutkoushian); Taking Teaching Seriously (w/K. Feldman); Teaching and Learning in the College Classroom (w/K. Feldman); and College Choice. His work has been published in an array of professional journals, such as Journal of Higher Education, Research in Higher Education, Review of Higher Education, Journal of College Student Development, Educational Evaluation & Policy Analysis, Journal of Education Finance, Economics of Education Review, Higher Education, Teaching in Higher Education, Journal of Faculty Development, and College Teaching. In 2015, Dr. Paulsen received the RESEARCH ACHIEVEMENT AWARD from the Association for the Study of Higher Education.
Published annually since 1985, the Handbook series provides a compendium of thorough and integrative literature reviews on a diverse array of topics of interest to the higher education scholarly and policy communities. Each chapter provides a comprehensive review of research findings on a selected topic, critiques the research literature in terms of its conceptual and methodological rigor and sets forth an agenda for future research intended to advance knowledge on the chosen topic. The Handbook focuses on a comprehensive set of central areas of study in higher education that encompasses the salient dimensions of scholarly and policy inquiries undertaken in the international higher education community. Each annual volume contains chapters on such diverse topics as research on college students and faculty, organization and administration, curriculum and instruction, policy, diversity issues, economics and finance, history and philosophy, community colleges, advances in research methodology and more. The series is fortunate to have attracted annual contributions from distinguished scholars throughout the world.

The Series Editors:
Laura W. Perna, University of Pennsylvania, USA
N2 – Organizational learning is a conceptually rich construct that can inform understandings of a wide range of organizational phenomena. The field of higher education, however, lacks a sufficient body of empirical research on organizational learning in colleges and universities. Moreover, the limited set of organizational learning publications in higher education is weighted heavily toward the functionalist paradigm. This lack of paradigm diversity can be problematic in terms of how the organizational learning construct is applied to practice. In the context of the corporatization of higher education, where the authority of central management has been strengthened, functionalist approaches to organizational learning can reinforce top-down power dynamics and exacerbate tensions between faculty and administrators. This chapter calls for higher education researchers not only to conduct more studies of organizational learning, but to do so from the vantage point of multiple research paradigms. First, the chapter discusses how organizational learning is relevant to the unique contexts of higher education institutions. Second, the chapter examines the wide variety of definitions used in the organizational learning literature, and highlights some of the paradigm debates that have emerged among scholars in this field. Next, the chapter explains and critiques some of the prominent functionalist theories that have guided the study of organizational learning. To complement these long-standing functionalist perspectives, the chapter introduces several organizational learning theories that have emerged in other paradigms. Finally, the chapter concludes with a proposed research agenda for studying organizational learning in colleges and universities.
Higher education: handbook of theory and research. ed. / Michael B. Paulsen. Cham/Heidelberg/New York : Springer, 2016. p. 275-348 (Higher education: handbook of theory and research; No. 31).

As an Associate Professor of Higher Education, Dr. Kimball teaches courses related to student development theory; student affairs practice; research design; and qualitative research methods. He also serves as the instructor for a first year seminar course, FYS197 Disability in American Civic Life, that utilizes participatory action research methods to help undergraduate students produce new empirical information about how stigma related to disability shapes postsecondary learning environments. Prior to joining the faculty at the University of Massachusetts Amherst, Dr. Kimball worked as an administrator at Curry College, Maine College of Art, and PSL STRIVE / STRIVE U, where much of his work focused on supporting students with disabilities.
Dr. Ezekiel Kimball is Associate Dean for Operations and Planning, an Associate Professor of Higher Education, and the Associate Director of the Center for Student Success Research at the University of Massachusetts Amherst. An expert on the postsecondary success trajectories of students with disabilities, his publications have appeared in the Journal of College Student Development, Journal of Diversity in Higher Education, Higher Education: Handbook of Theory and Research, the Journal of Student Affairs Research and Practice, and New Directions in Institutional Research. In recognition of his scholarly achievements, Dr. Kimball has been named an ACPA Emerging Scholar by ACPA: College Educators International, a Family Research Scholar by the Center for Research on Families, and a Public Engagement Fellow by the University of Massachusetts Amherst.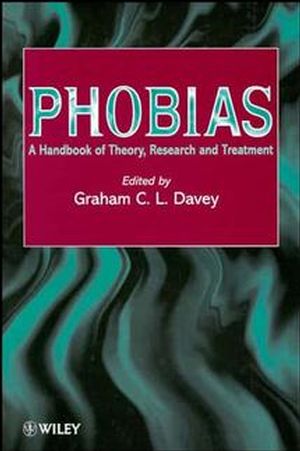 Dental Phobias (G. Kent).
Water Phobia (R. Menzies).
Resources:
http://www.springer.com/series/6028
http://research.utwente.nl/en/publications/organizational-learning-in-higher-education-institutions-theories
http://www.umass.edu/education/people/ezekiel-kimball
http://www.wiley.com/en-us/Phobias%3A+A+Handbook+of+Theory%2C+Research+and+Treatment-p-9780471969839
http://www.nsa.bg/en/faculty,1/department,37